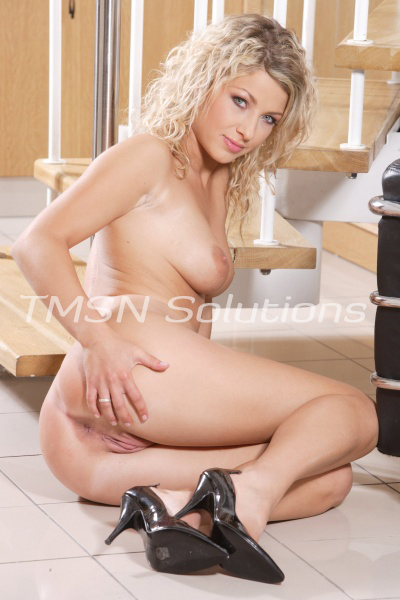 I enjoy many types of scenarios where I am made into your dirty whore slut. I remember the time my stepson and his girlfriend were making out all hot and heavy on the couch. I was watching them from the upstairs landing. My stepson opened his eyes, and caught me staring, but instead of stopping what he was doing, he started kissing her harder, fondling her more aggressively. My dominant husband was out of town, and my body was aching to be used. I realized that Jr here was just like daddy. He stopped kissing his stunning little girlfriend, and turned his head in my direction.
"Hey Diana, why don't you come sit down here next to us so you can get a better look?" I blushed as I gathered my robe up to cover my bare breasts. 
"I'm sorry." I hung my head. "I shouldn't have been staring. I'll go back to bed now. Have a good night, you two."
"Diana! I said, come sit down next to us so you can get a better look."
I gulped, and my heart started racing. He gave me a command, and a submissive little cunt like me can only obey. I started down the stairs, my heeled slippers clicking on each step, and all the way across the marble floor over to the couch. I sat down next to them, and Jr resumed kissing his girlfriend. I was getting flustered and embarrassed by how turned on I was getting as I was forced to watch my stepson, who was just a couple years younger than I was, make out with his girlfriend.  I tried to look away, but Brandy grabbed my leg and tried to put her hand in my panties! Her fingers caught hold of the moist, satiny material for just a second, but it was enough for her to know that my pussy was getting wet at the sight of these two hotties making out.
"Don't look away….watch." The authority in her voice made me melt, and I could feel my pussy juice gush right into my panties. My eyes gazed on their writhing bodies as his finger fucked her. My hand started to wander to my panties, but Jr slapped it away.
"I told you to watch, not play with your pussy."
"Yes, Jr."
I was made to watch as he used his tongue to pleasure Brandy, and my pussy dripped. I ached to be touched. I whimpered as she moaned in desire. Jr. finally let me play with my pussy, but instructed me to stop so that I could service his huge cock. I slurped on his cock, daring it to give me the sticky white goo I craved. It grew in my mouth as he made it his personal fuck hole. When he was ready to cum, he pulled his cock out of my throat and told me to beg for his cum.
"Please give me your cum, Jr. I need it. I need to know that you are pleased with me. Paint my face with it, please."
He blasted his sticky load all over my face, and he never let me cum…
Dirty Diana
1-844-33-CANDY ext 248
www.sinfullysexyphonesex.com/diana