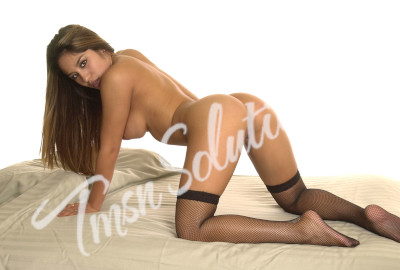 Te dire muy poco por que quiero que me hagas tuya que me llenes de plaser, que me tomes como nunca me has tomado, asi bien rico!!
Dame ese varga que me llena de deseo y me pone la panoche muy mojada , ven que quiero complir todo esos desos que des que me viste los tenies en esa mente tan sucia, esta noche quiero que me digas al oido todo aquello que te calienta y que have que la verga se te ponga bien parada .
Esta noche me digas aquel secreto mas sucio y perverto, que esta noche te dare todo para llenarte de plaser y complaserte en todo aquel deso cachondo que tienes.
********** ***************************************************** ***********
Hello Papito !! I see that you are looking for a little whore my king, well you find me. Would you like to lose yourself in my hot body ? Mmm…let me take care all those dirty desires! I can see that huge cock of your's getting hard.
Bring that dick to this naughty girl, don't be shy papi!! Let this little slut make all your nasty fantasies come true in a phone sex experience. I can see that cock getting harder. Delicious!!
Come my king, come to play erotic and sensual games and hot fantasies.
Call me tonight that this whore baby girl is waiting for you .
Tessa
866 672 5536
http://tlcphonesex.com/tessa.html