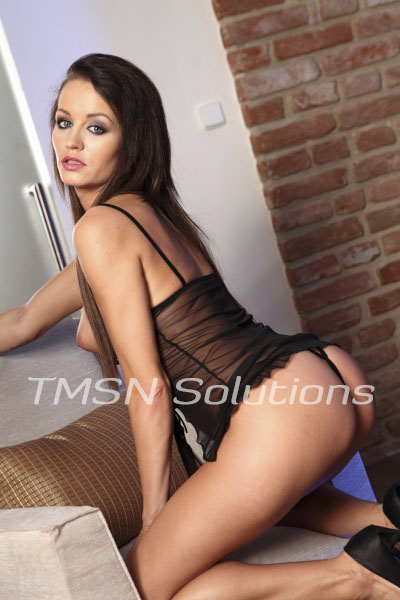 Sinful Serinda 844-33-CANDY (844-332-2639), ext. 394
Being a California girl, I've been to my fair share of parties, but this was my first masquerade ball. I figured if nobody can see my face I had to be completely obscured so nobody would recognize me. I tucked my hair up under a long blonde wig, purchased a mask that would conceal pretty much all of my face from my nose up. I wore a plain, yet cute black dress that covered the tattoo on my arm. Nobody would know who I was, I would know nobody there, and this night would never exist to me. I repeated this to myself as I walked in, the lights extremely dimmed, obscuring most everyone. I wandered around, taking in the assault on my senses – the faint smell of spent sex clung to the air as strangers hastily fucked in the back rooms. The music loud enough to barely dulling out the grunts and groans as party goers came and made their respective partners cum in creative and some sadistic means.
I sat in a chair that was beside what appeared to be an area set up as a wet bar. I ordered a Crown Royal on the rocks and waited for my prey. Many wanted my attention, but few were worthy until he approached. As he sat, I finished my drink. He gave me a "Hello!" and a smile. I didn't answer with words, just eyed my empty glass as I ran my manicured fingertip along the rim. I looked back up at him, not playing coy at all. He caught the hint and motioned the bartender to refill my glass. I crossed one leg over the other, staring at him as I drank. He nervously looked around, obviously uncomfortable. I finished my second drink, feeling much looser now, and stood up. He stood as well, clearing his throat as if to bid me a good evening, but I walked towards the back of the building, turning my head to indicate that he was to follow me.
It took a while to find the right room for what I was feeling. Most were plain bondage type rooms – racks, whips, chains and the like. Finally, I found what I was looking for and I led him in. The room was barely lit and smelled of all those who had found pleasure before us – a mixture of perfume, cologne, sweat, and cum. It was exhilarating. I eyed the table, looking like a gynecological exam table, covered in straps and buckles. "Undress," I said. He complied with my demand, stripping down to his bare ass, save for his mask. His body was tight, but not athletic, and his cock was a magnificent sight to behold, not quite fully erect in anticipation.
I ordered him to the table and proceeded to bind him tightly, barely able to move. His head was free to watch what I was about to do to him. I started with a mid-sized butt plug that I liberally lubed up and slowly inserted into him, not wanting to damage his sweet boy pussy. He flinched in discomfort but I lovingly turned the tip around, lubing him up as I imagined that I had just popped this boy's cherry. I was honored. He didn't seem to mind, as his cock was now fully erect, dripping precum in excitement. I took my hands and massaged his precum into the head of his cock. He moaned in delight as I worked his natural slickness into his shaft and stroked vigorously, my eyes not leaving him, my breath quickening as did his.
As I felt him tense I stopped, not ready. "We're not done yet" I said as I picked up a more than likely used ball gag from the nearby table. I strapped it around his mouth and he mumbled something inaudible. From there, I found a toy to play with and had a devilish idea. It was the wand style vibrator that caught my eye, with the large "message" head on the end. I took it, powered it on a low setting, and proceeded to twirl it around the head of his cock, causing more precum to dribble uncontrollably. His ragged breaths came sharper now, sucking in harder trying to gasp through the ball gag in his mouth. He was unable to move but he tried as he squirmed. I turned the intensity up another level and stroked his cock with my other hand. Again I felt his body tense and saw the impending orgasm in his eyes. I stroked faster, but not too fast, just enough to bring him to where I wanted. He let out a muffled "I'm going to cum" through the ball gag and breathed faster.
A stream of cum ran out of his head and down his shaft onto my fingers and I continued to massage his cock as his orgasm subsided, leaving the wand on the head of his cock. When he was finally done, I took my hand off his cock, covered in his cum and shoved a cum covered finger into his mouth, between his cheek and the ball gag. "We're not done yet," I said again. I turned the speed of the vibrator up to high and held it under the head of his now flaccid cock. He tried to pull his hands from their restraints to move the newly turned torture device away from him but he was unable to. His groans almost turning into screams as I circled the vibrating knob around his cock head. "Shh shh shh shh" I attempted to soothe him. "Give me what I want and it will all stop"
The wand was vibrating so strongly my hand was starting to go numb, but I was not stopping. I grabbed his cock around the base, keeping as much fluid in it as possible as I focused the wand underneath the head of his cock. I let it sit there and watched as the look of distress on his face grew. It was torture for him, it was agony, almost like a tickle that you could not escape. I kept him like that for a good 8 minutes until finally, I could feel the fluid filling his cock again. I released my grip as I saw his erection was maintained for me, but I kept the wand right on that dick.
I took my now free hand and moved it to the butt plug in his ass, firmly flicking it first, causing him to release a muffled yelp through his ball gag each time. Eventually, I moved to spinning it around in his not-so-tight-anymore boy pussy as he released low, guttural moans. Finally, his breathing became more fierce, his moans and stifled shrieks growing more. "You cumming again for me?" I mockingly asked as I removed the butt plug from his ass and then reinserting it over and over. Thankfully he was nice and wore out for me, so I don't think I damaged him too much. He didn't seem to mind, though, moaning through his ball gag louder now as an explosive orgasm erupted from his cock, spraying more cum than the last all over his stomach and chest. I loved every second of it but didn't show my emotions to him. I turned off the vibrator, removing his ball gag as he gasped, unmoving as I rubbed his cum into his skin. I looked down at him as his breathing recovered, running a hand over his cheek. "We're not done yet…"
We will only be done when I am completely satisfied. Are you going beg me to let you satisfy myself using you?
Serinda
844-33-CANDY
(844-332-2639)
ext 394
http://www.phonesexcandy.com/serinda/